About Fly Shuttle
Since 2008, we have provided superior transportation services on the island of Oahu for tours, airport, and hotel.
Airport Resort Transportation Service
Owners Tim and Ty Lai started Fly Shuttle Tours and Transportation in 2008 as a small two-vehicle start up. As Tim puts it: "Two vans and two 'mans'". The brothers, originally from San Diego, arrived in Hawaii after selling auto body and auto paint businesses. "We drove for another shuttle service after relocating here, and we both realized that we liked it but wanted to own our own business again. So in 2008 we bought two vans and started Fly Shuttle." By providing superior service and hands-on guidance Fly Shuttle has grown to include 22 employees and 22 vehicles in their fleet. "We still get behind the wheel and drive," adds Ty. "Driving keeps us close to our customers and gives us the feedback we need to continuously improve our customer experience."
Today, Fly Shuttle employs drivers who are "friendly, honest, funny and have detailed knowledge of the island and Hawaiian culture. We're proud to have the best drivers in our industry." When you book a shuttle, tour or car service with Fly Shuttle, you can rest assured that the strictest safety protocols are being followed. "We sanitize our vans after each trip and our drivers wear protective equipment," adds Tim. "We're dedicated to ensuring a healthy environment for our guests."
Choose a transportation and tour company that is family owned and operated and dedicated to providing the best experience in Oahu.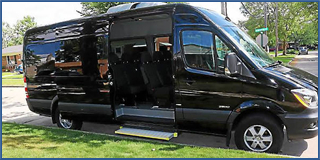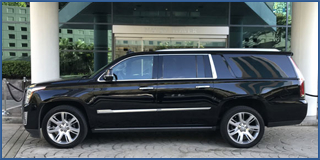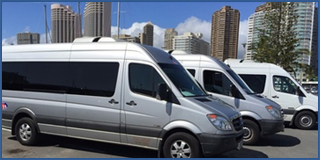 The Flyshuttle Difference
Fly Shuttle & Tours is committed to providing continuing education materials and access to community classes to ensure that all tour guides are competent, confident and proud to represent and share Hawaii with island guests in a way that is respectful both to visitor and resident alike. We provide opportunities for tour guides to be in a perpetual state of learning so as to always offer guests the best, most authentic experience as it pertains to Hawaii and its history and culture.
Our Guides
Must possess a solid understanding of Hawaiian history and know their way around Oahu.
Knowledge and understanding of proper usage of the Hawaiian language
Friendly and personable, clean and well-presented
Weekly cultural training with different areas of focus from a state-certified staff
Access to community resources for deeper training and certifications
Ongoing monthly group and individual training and employee bonding and sharing. The group setting allows peers to learn from each other as well as our team instructor, who is state-certified in the History & Culture of Hawaii program and is sensitive to Hawaiian beliefs and customs. Individual training encourages educational and cultural growth without judgment
Focus on the small-group experience
Fly Shuttle's unique, culturally- based experiences differ from all other "cookie-cutter tours." We strive to provide our guests something authentic and fun while incorporating historic and educational values